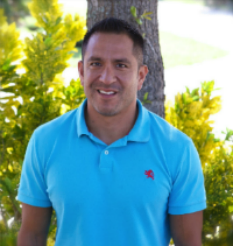 Isidro Zavaleta, MS, BCBA
Executive Director
Isidro Zavaleta was born and raised in Brevard County. He grew up in poverty in a family of 6 and learned firsthand the struggles lower socioeconomic families face. He has seen the Space Coast grow firsthand from densely wooded areas to sprawling neighborhoods and golf courses. On his vacation breaks from Florida State University, Isidro began working at Devereux Florida. Originally an engineering major, Isidro changed his major to psychology after gaining substantial practical knowledge at his part-time job.
Soon after graduation in 1996, Isidro began to further his education by preparing for the then-Associate Behavior Analyst certification offered by the State of Florida. He practiced as an independent Behavior Analyst until 2002 and completed graduate school at University of Central Florida in 2003. It was in 2002, he and his wife, a Speech Language Pathologist and now BCBA, decided to take a big step and start their own agency; Coastal Behavioral Therapy, Inc.

Isidro has received the 2013 Child Abuse Prevention Task Force of Brevard Business Individual Award for his dedication to prevention. Coastal Behavioral Therapy, Inc. has been well respected in the community as not only a high quality provider, but an agency who truly ensures the client's needs are met or are referred elsewhere if more intensive treatment is needed.



Deana Duckenfield, MA, LMHC
Clinical Director
Deana Duckenfield is originally from Cape May, New Jersey where she lived until moving to Florida in 1995. Deana's early career was much different from today, and she worked as a Convention Services Manager for the Hilton Daytona Beach for almost 10 years. It was while in this career that she earned her degrees from Daytona Beach Community College in 2000 and the University of Central Florida in 2007. Shortly after leaving her employment with the Hilton Deana realized that her true passion was to help others and she enrolled at Capella University to pursue a graduate degree in mental health counseling. Deana graduated in 2012 with a Masters in Mental Health Counseling.
In 2011 she began working with Aspire Health Partners as a Senior Adult Counselor who focused on diagnosis and treatment of mental health, substance abuse, and co-occurring disorders. She has also worked for Children Home Society providing assessment and therapeutic services for clients in the community. In 2012 she began working with Coastal Behavioral Therapy as a contract therapist and that has led to her current role with them today.
Deana is an Licensed Mental Health Counselor (LMHC), Adoption Competent Therapist and will soon achieve her Certified Addiction Professional (CAP) Certification. She will soon become a Certified Mental Health Integrative Medicine Provider as well.


Tanya Shuckerow
Office Manager
Info coming soon....